State-of-the-art manufacturing processes that enable pharmaceutical companies to produce lifesaving and life-changing medicines. Automated agri-food production systems that fuel the heart of the vital Irish farming sector. Cutting-edge environmental research that is making inroads into landfill capping – lightening the effects on the environment and helping to build a more sustainable, safer future. And innovative industrial lighting systems that are setting a new benchmark in responsible, intelligent, energy efficiency.
This is EMCA today, and the real-world, far-reaching benefits we bring as a world-class, market-leading electrical process control and automation engineering company. Because while we set standards in automated systems and are the provider of choice for companies across Ireland, the UK and Europe – we measure our worth in the differences we bring to the world, every day. We are dedicated to finding smarter, better, safer, bigger solutions for our clients – helping them, in turn, to be the best they can be.
Total Turnkey Solutions
At EMCA we've made our name offering a bespoke turnkey service that encompasses every aspect of automation projects. From initial consultation, design and manufacturing, through to electrical and mechanical installation and final commissioning, we provide full end-to-end management, complemented by 24-hour maintenance and support once your project has gone live.
Our roots lie in providing bespoke solutions for the wastewater industry and we are proud to be a Tier 1 contractor for Irish Water. We are ranked among the country's top three providers of wastewater control and automation solutions. While this is where we have made our name, today we work across all market sectors.
Our strength lies in our team of highly-skilled and specialised electrical, software, design and mechanical engineers – based at our 6,000 sq. ft facility and 1,300 sqm engineering, design and software development offices, in Cootehill Co. Cavan. 
At the Forefront of our Field
What gives EMCA the market-leading edge and secures you superior solutions?
Specialised knowledge and expertise you can trust.
Our commitment to our clients from project conception to completion.
Our passion for excellence and dedication to delivering an innovative solution.
The knowledge that we will deliver guaranteed value for money, increased efficiencies and enhanced productivity. 
The peace of mind of knowing our in-house customer support team can provide 24-hour maintenance services and online technical solutions. 
The relationships we have built with our team mean our staff retention rate is incomparable. Most team members have developed and 'grown up' within the company, and most live within a 35 km radius of our facility.
The assurance of our global recognition. EMCA's achievements have received both local and national acknowledgement – reaching the finals of the National City & County Enterprise Awards in 2009 and winning the Most Innovative Business of the Year at the Anglo Celt Business & Tourism Awards in 2013. 
Our Team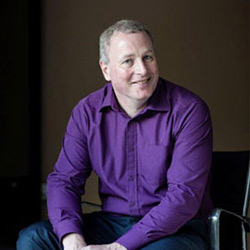 Paul Clarke – Managing Director
As the founder of EMCA in 1998, Paul has grown the company into one of the leading process and automation companies in Ireland. His vision and drive to understand, develop and apply new systems to client needs and problems, places EMCA firmly at the forefront of his industry.
Paul's extensive experience in electrical process control and automation and his direct client engagement strategy allows the company to move into new markets and explore different opportunities.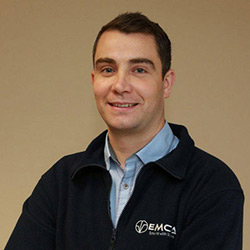 Brian Sherlock – Operations Manager
Brian is EMCA's Operations Manager who brings a wealth of national and global electronic engineering experience to the company. Brian's project management expertise and skills, coupled with his client-centric approach, means projects are delivered on time and on budget. Brian is an electronic engineering and industrial computing graduate from Waterford Institute of Technology. He joined EMCA in 2007 having worked in the field of new product design and robotics.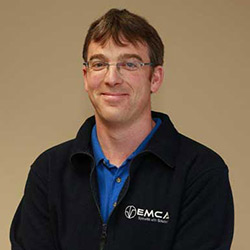 Trevor McIntyre – Senior Electrical Engineer
With a background in electrical design, Trevor has been with EMCA since 2002. Trevor has extensive experience in the field of electrical automation, control engineering, installation and instrumentation and a strong grounding in technical support. This is complemented by Trevor's in depth knowledge of health and safety, as well as quality management systems and processes. His unique set of skills means he provides optimal project delivery and exceptional client service.
Declan Tynan- Software Engineering Supervisor
Noel Conlon- Software Engineer
Damien Sherlock- Electrical Design, Test & Commissioning Engineer
Liam King- Senior Electrical Install Supervisor
Aiden Boyle- Senior Technician Workshop Supervisor
Jason Travers- Contracts Design Tendering